Lets face it, the older our kids get, the harder it is to find things to put in their Easter Baskets.
Video games are too expensive and I really don't like loading it up with pounds and pounds of sugar.
But, no matter how old my kids get, the one thing they haven't grow out of is Disney (especially since they bought the rights to Marvel and Star Wars).
Disney Vacation-Themed Easter Egg Fillers that (hopefully) won't break the bank.
Quarters and Pennies
Growing up, I always had one egg that had some quarters in it.
I never knew the reasoning behind this, but it was always fun to find the money every year.
Well, when we go to Disney, my kids like to squish pennies. Since cheap souvenirs only cost $.51, so I put quarters and pennies in an Easter Egg for my kids.
I'm not only continuing my Easter tradition, I'm giving it a little bit of a Disney spin.
Disney Pins
My kids love their Disney Pins!
They get a Gift Card to spend on whatever they want each time we go to Disney. 9 times out of 10, they will choose to spend their money on getting new pins.
If you want to go the more affordable route, you can purchase groups of pins on Ebay for a reasonable price.
They're great for Pin Trading, but more likely than not, you will be getting fakes.
Just keep that in mind when you're in the parks because if you give an Authentic Pin to a Cast Member in a trade, you may be trading for a fake since many guests will buy these pins for the purpose of trading them away in the Parks.
If you're solely looking for Authentic Pins, I would buy them straight from the source and get them from Shop Disney.
Gift Cards
As I just mentioned, my kids will get a Gift card to bring with them on our trips.
Why a Gift Card?
They can be used in all the Parks and Resorts and they come at no out-of-pocket cost to me since I am continually working towards earning Gift Cards to pay for my Vacations.
Standard Easter Eggs will not be wide enough to fit a Gift Card, so you will have to spend a little bit more money on a Jumbo egg.
But, if you're like me and don't spend any money on the Gift Card itself, then the cost isn't really so bad.
Plus, the eggs can be used over and over again.
**Tip: If you have multiple Disney Gift Cards, don't carry all of them.
Combine the balances onto one card!
If you lose that Gift Card or forget it at home, just transfer the entire balance onto a new card.
It transfers immediately, so you can just transfer the balance a card you have in your possession and start shopping!**
Poncho
If you have multiple Jumbo eggs, or you're looking for something to fill it with besides a Gift Card, then a folded up poncho may be the thing.
This would be great if you want to surprise your child with an upcoming Disney Vacation.
Since we don't wear ponchos anywhere else but at Disney, it would be a dead giveaway that a trip is being planned.
Jewelry and Accessories
How excited would she be to open an egg and find that accessory she's been dying to have?
And the good thing about jewelry is that they are often small enough to fit into any sized Easter Egg.
MagicBands and Accessories
As magical as the MagicBands that are included in every Disney Package are, decorated ones take it to the next level.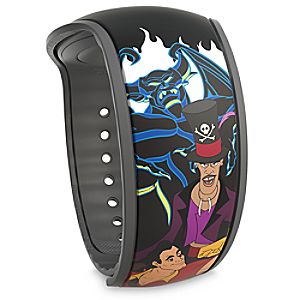 Linking new MagicBands onto My Disney Experience is easy. Just enter the code on the inside of the MagicBand and everything is linked!
**Tip: Don't forget your BitBelt! (I am not affiliated with the company! I just really like their product!)
During a previous trip, I was waiting in line for Big Thunder and my MagicBand opened up after getting caught on something in line.
I must have had stealth-like reflexes that day because I caught my MagicBand before it fell into a crevice below.
While not impossible, it would have been a pain to retrieve my MagicBand had it actually fallen.
After that incident, I vowed to never go without a BitBelt again! **
Your MagicBand holds your Room Key, Park Tickets, Meal Credits, FastPass+, Photos, and if you choose to include it: a linked Credit Card.
While it's pretty secure and it would be fairly difficult for someone to use your information, it would not be a good situation to be in.
Another MagicBand will be provided to you in the standard Gray color, but who wants to take time out of their vacation to report it missing and have their information transferred to a new MagicBand?
Photo Credit: BitBelt.com
What other items do you fill your Easter Eggs with?
Ready to plan your Disney Vacation? Let us help you!
**This post contains Affiliate links. By purchasing through some of these links, we may receive a small commission. They come at no cost to you, but it does ensure that Disney Solution can continue, so thank you!**